Shaheed Zulfiqar Ali Bhutto Medical University Islamabad - Entry Test
May 5, 2015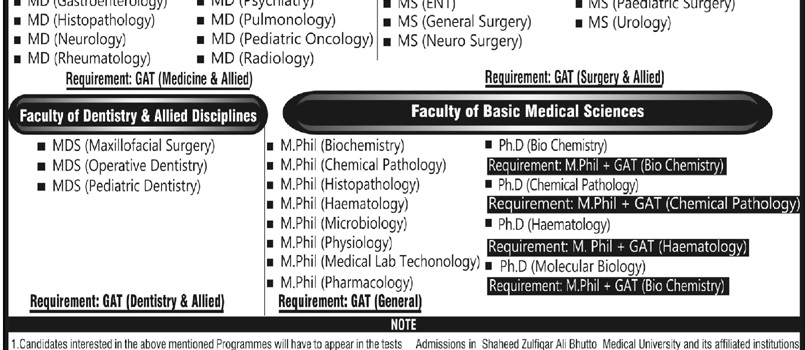 SHANEED ZULFWAR All BHUTTO MEDICAL UNIVERSITY is offering Residency Training Program in 32 discipline in clinical sciences and M.Phil & Ph.D in 12 disciplines of basic medical sciences.
5-6 Years Residency Training Programs
Faculty of Medicine & Allied Disciplines
MD (Critical Care Medicine)
MD (Cardiology)
MD (Dermatology)
MD (Endocrinology)
MD (Gastroenterology)
MD (Histopathology)
MD (Neurology)
MD (Rheumatology)
Requirement: GAT (Medicine
MD (Internal Medicine)
MD (Nephrology)
MD (Neonatology)
MD (Paediatric Medicine)
MD (Psychiatry) MD (Pulmonology)
MD (Pediatric Oncology) MD (Radiology) & Allied)
Requirement: GAT (Medicine & Allied)
Faculty of Dentistry & Allied Disciplines
MDS (Maxillofacial Surgery)
MDS (Operative Dentistry)
MDS (Pediatric Dentistry)
Requirement: GAT (Dentistry & Allied)
Faculty of Surgery & Allied Disciplines
MS (Accident & Emergency)
MS (Anaethesia)
MS (Burn Surgery)
MS (Cardiac Surgery)
MS (END
MS (General Surgery)
MS (Neuro Surgery)
MS (Obstetrics & Gynaecology)
MS (Orthopedics)
MS (Ophthalmology)
MS (Plastic Surgery)
MS (Paediatric Surgery)
MS (Urology)
Requirement: GAT (Surgery & Allied)
Faculty of Basic Medical Sciences
Phil (Biochemistry)
Phil (Chemical Pathology)
Phil (Histopathology)
Phil (Haematology)
Phil (Microbiology)
Phil (Physiology)
Phil (Medical Lab Techonology)
Phil (Pharmacology)
Requirement: GAT (General)
Ph.D (Bio Chemistry) (Requirement: M.Phil + GAT (Bio Chemist))
Ph.D (Chemical Pathology) (Requirement: M.Phil + GAT (Chemical Pathology))
Ph.D (Hematology) (Requirement: MPhil + GAT (Bio Hematology))
Ph.D (Molecular Biology) (Requirement: MPhil + GAT (Bio Chemist))
NOTE
Candidates interested in the above mentioned Programmes will have to appear in the tests of GAT (Medicine & Allied ) ,GAT (Surgery & Allied ), GAT ( Dentistry & Allied ), GAT(Chemical Pathology),GAT (Haematology), GAT (Bio Chemistry) and GAT (General) according to their choice of selected field.
Those Candidates who has Passed the above mentioned GAT tests will be eligible for Admissions in Shaheed Zulfiqar Ali Bhutto Medical University and its affiliated institution viz FGPC, HSA etc.
Non Medical Graduate can apply in M.Phil & Ph.D Programmes if they have qualification in the relevant discipline( in case of M.Phil sixteen years of education & for Rh.D, M.Phil in relevant discipline
ELIGIBILITY
Pakistani Nationals including AJK, Foreigners can also apply.
Candidates must possess MBBS/BDS or equivalent degree registered by PMDC.
Permanent valid Registration with PMDC.
Must posses one year house job form a PMDC recognized institution.
Candidates who are completing their house job till 31 July,2015 can also apply.
In case of foreign candidates valid registration certificate of their own country's council shall be required.
7.Those already in possession of FCPS/MD (Medicine or Surgery), MRCP or US board in internal Medicine or General Surgery can also apply of Sub speciality training Programs. They will be exempted for upto 2-3 Years period and will have to undergo a further 3 Years training only.
HOW TO APPLY
Application form and online deposit slip can be obtained from National Testing Service
Please deposit test fee of Rs.2000/- with each application through the prescribed deposit
Applications must be received by NTS not later than 3rd, May2015.
NTS will not be responsible for late receipt of applications sent through post.
Candidates are not allowed to bring cell phone to the examination centers. 6. Test fee is non-refundable and non-transferable.
Applications submitted in person will not be entertained.
For further informal on, please contact 
UAN (051) 844-444-1
Website: www.nts.org.pk
National Testing Service-Pakistan NTS Headquarters: 1-E, Street No. 46.1-812, Islamabad
Headquarters:1-E, Street No.461-6/2, Islamabad along with the filled up application form. Slip in the online branches of ABL,UBL.HBL or MCB, and send the same to NTS