Postgraduate Scholarships at Quaid-e-Azam University Islamabad form HEC
May 14, 2015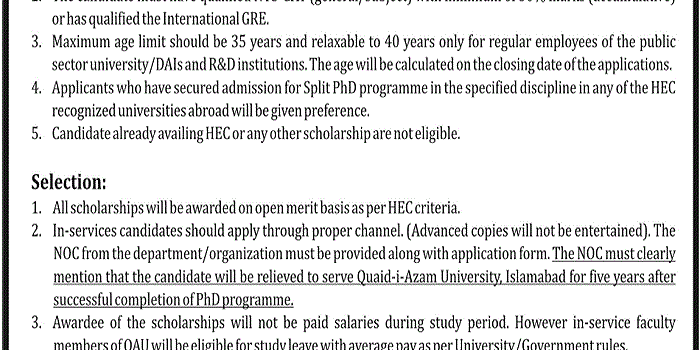 Quaid-i-Azam University Islamabad is offering SPLIT PhD SCHOLARSHIPS UNDER HEC FUNDS, PSDP PROJECT
Applications are invited for the award of Split PhD Scholarships (2-year Local and 2-year Foreign) under HEC funded PSDP project "Expansion Programme of QAU" in the following disciplines from the Pakistani & AJK nationals:-
Economics (2)
International Relations (2)
Anthropology (2)
Archeology (1)
D,S.S (1)
The selected candidates will be offered faculty position on successful completion of PhD degree. Serving faculty members and already enrolled PhD students at QAU are also eligible to apply for these scholarships.
Eligibility Criteria:
Minimum 18 years of education in relevant discipline from HEC recognized university/institution with first division in the last degree and not less than 50% marks in the entire academic career
The candidate must have qualified NTS-GAT (general/subject) with minimum of 50% marks (accumulative) or has qualified the International GRE.
Maximum age limit should be 35 years and relaxable to 40 years only for regular employees of the public sector university/DAls and R&D institutions.The age will be calculated on the closing date of the applications.
Applicants who have secured admission for Split PhD programme in the specified discipline in any of the HEC recognized universities abroad will be given preference.
Candidate already availing HEC or any other scholarship are not eligible.
Selection:
All scholarships will be awarded on open merit basis as per HEC criteria.
In-services candidates should apply through proper channel. (Advanced copies will not be entertained). The NOC from the department/organization must be provided along with application form. The NOC must clearly mention that the candidate will be relieved to,§erve Quaid-i-Azam Univers*, Islamabad for five years after successful completion of PhD programme.
Awardee of the scholarships will not be paid salaries during study period. However in-service faculty members of QAU will be eligible for study leave with average pay as per University/Government rules.
The University reserves the right to postpone or cancel the Scholarships process at any stage, before the final selection, without assigning any reason(s).
All the selected candidates shall furnish a bond that they will report to Quaid-i-Azam University, Islamabad & HEC and will serve QAU for five years after completion of the studies or in lieu thereof shall refund the entire amount to be determined by HEC.
All the existing and up-coming statues, rules/regulation of QAU and decisions of the Selection Board/Syndicate will be applicable.
Incomplete and late applications will not be entertained.
Application Procedure:
Application forms are available on QAU website (www,qameduipk) and may also be obtained from the office of the undersigned. Candidates are requested to submit the application form complete in all respects to the office of Project Director QAU upto 15.05-2015, with the following documents.
Attested copies of all educational testimonials, CNIC, valid passport (front page), domicile and four recent photographs.
Attested copy of valid NTS-GAT/ International G RE, score result card.
Purpose of interest in higher studies (minimum one page).
Research proposal abstract.
Original deposit slip of bank draft/challan of Rs. 2000/- as application processing fee in the name of Treasurer QAU.
Only shortlisted candidates will be invited for Interview.
CONTACT:
PROJECT DIRECTOR QUAID-I- AZAM UNIVERSITY, ISLAMABAD
Phone # 051-90644070, 90644170, 90644077