Mohi-ud-Din Islamic University AJK - Admission Open
May 12, 2015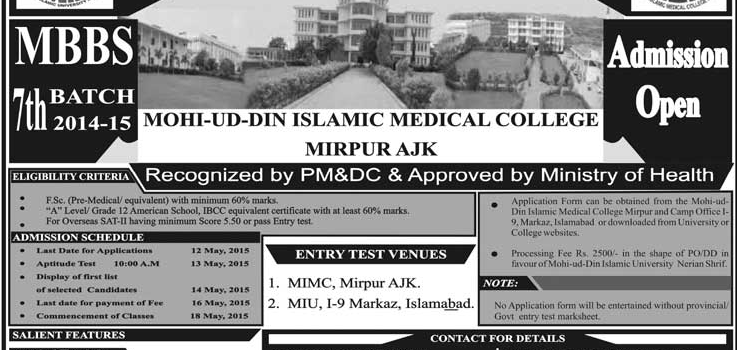 MOHI-UD-DIN ISLAMIC MEDICAL COLLEGE MIRPUR AJK admission open for MBBS 7th batch (2014-15)
Eligibility Criteria
F Sc. (Pre-Moltcalr equivalent) with minimum 60% marks.
"A" Level/ Grade 12 American School. 1BCC equivalent Cala-1We with al least 60% narks.
For Overseas SAT-II having minimum Score 5.50 or per Entry test.
Admission Schedule
Last Date for Application: 12 May.2015
Aptitude Test 10:00 A.M: 13 May. 2015
Display of not het of selected Candidates: 14 May 2015
Last date for Payment of fee: 16 May 2015
Commencement of Classes: 18 May 2015
NOTE: No Application form will be entertained without provincial; Goss entry teat.
CONTACT FOR DETAILS
Muhi-ad-DM Islamic University, Camp Office Plot No. 2-A. 1-9 Moan. Islamabad (Near 1.9 Police Salina) Ph: 051-4859658-9. Fax: 051.4859657
Mohi-ud-Din Islamic Medical College, Mirpur Sector 13-4. New Industrial
Ph: 05827468666. 468159. 468160. Fax: 05827-468777