Federal Urdu University management crisis hits students
April 6, 2015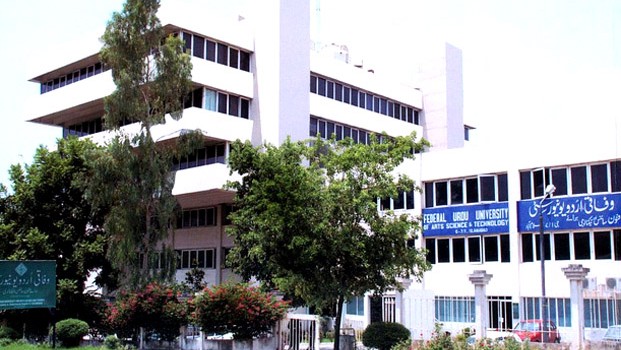 The students of Federal Urdu University of Arts and Sciences are bearing the brunt of management crisis in the university.
In a latest development, the in-charge of Islamabad campus termed the letter notifying the joining of new acting VC in place of incumbent Dr Zafar Altaf as illegal and ordered an inquiry against the assistant and deputy registrars under whose signatures the letter was issued.
The letter directed all employees of the Islamabad campus not to follow any instruction of Dr Zafar Altaf, as, accordingto the letter, he is no more VC of this institution.
The letter said Dr Qaiser has taken charge as new acting Vice-Chancellor of the university.
However, on Friday, VC Zafar Altaf told Dawn the two officers had illegally issued the letter, which had no legal standing.
They were suspended last year for alleged malpractices.
`Now, I`m going to take action against them for writing the letter in question,` he said.
Senior faculty members of the university told Dawn that students were main sufferers ofthe crisis.
`Almost all departments are facingshortage of teachers. Besides, no serious step has been taken to get accreditation of Pakistan Engineering Council for the engineering department,` said a senior faculty member on the condition of anonymity.
He said despite having budget and land for the construction of own campus, no step is being taken for starting construction work on the Islamabad campus.
The faculty members said there awere two groups pro and anti-VCin both Islamabad and Karachi campusesthat has created a rift between the two campuses, badly affecting the performance of the university.Currently, a rented building houses the Islamabad campus.
It is relevant to note here that in December President Mamnoon Hussain, who is Chancellor of the university, had removed Dr Zafar Altaf and sent him on forced leave on the recommendations of the University Senate.
However, he challenged the decision of President in Sindh High Court and, according to him, got a stay order.
VC Zafar Altaf told Dawn that according to rules, the president could remove him from his position and termed meeting in which the decision was taken illegal.
He said next hearing in the case is due in third week of this month.