POSITION HOLDER STUDENTS RECEIVE GUARD OF HONOUR
March 17, 2015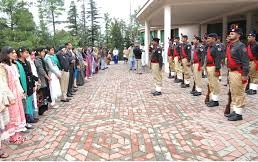 None of the 48 position holder boy students of Matriculation Examination 2012 (Annual) have imagined the honour bestowed upon them by Chief Minister Punjab, Muhammad Shahbaz Sharif.
They were presented Guard of Honour by a smart contingent of police in Punjab House Murree. While the ceremony was one of its kinds, Punjab Minister for Education, Excise and Taxation, Mian Mujtaba Shuja-ur-Rehman represented Chief Minister Punjab at the ceremony who invited these students on a three-day recreational and study visit of Murree.
While the students visited popular picnic spots in Murree, they were accorded protocol of State Guest during their stay. The Guard of Honour and status of state guest was given to the 48 toppers of all Boards of Intermediate and Secondary Education to acknowledge their talent and achievements.
Addressing at the occasion, Punjab Minister for Education Mian Mujtaba Shuja-ur-Rehman iterated, "promotion of education is essential and vital for eradication of ignorance and poverty." He praised the policies adopted by the Chief Minister Punjab, Muhammad Shahbaz Sharif to adopt unprecedented policy of merit for the promotion of education.
The Education Minister further said that the Punjab Government has awarded cash prizes to these students along with laptops to promote an atmosphere of competition among students to work hard for education.  He furthered that position holder students are offered with trips to foreign universities. The Minister for Education said that 40,000 such students have been awarded scholarships for higher education at national and international level under Punjab Endowment Education Fund.
The toppers expressed their utmost delight on the visit. They said that the honour bestowed to them by Punjab Government has inspired them a lot. All the toppers pledged that they will work harder in acquiring knowledge to get shining results in their academic careers in the future.