NTS need based scholarship program
November 4, 2015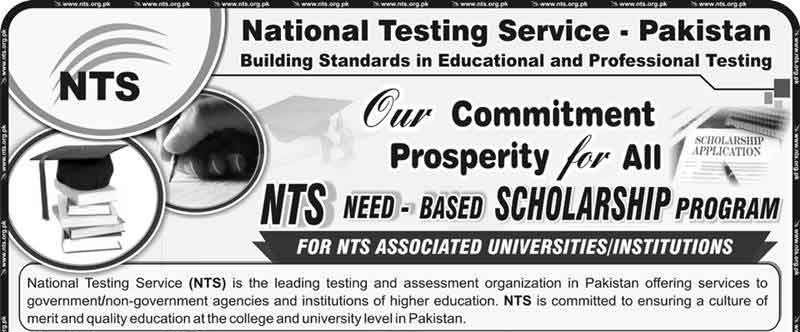 NTS need based scholarship program
NTS has emerged as the only credible leading testing and assessment organization of Pakistan, which assess the competency of the candidates for admission, scholarships and recruitment purpose for government and non- government agencies and institutes in an efficient and transparent way. These scholarships is also granted for NAT (Nat test is valid for one year) and GAT test (Gat test is valid for two years).
NTS offers need based scholarships need based scholarship program under cooperate social responsibility in order to financially strengthen the deserving student.
Scholarship coverage: scholarship will cover the tuition fee and stipend.
Eligibility criteria
Students of undergraduate, graduate level in all disciplines at the NTS associated universities/ institution of Pakistan.
Valid regular admission or already enrolled as a regular (full time) student in any NTS associated university/ institution as per the admission criteria.
Qualifying scores in NTS tests for securing admission at a NTS associated university/ institution
Existing students are eligible to apply, subject to the condition that they
·         have passed NTS( NAT/ GAT) test for admission
·         have scored equal or more than 2.5 GPA in the preceding semester
How to apply
Forms are available at financial aid office (FAO) at the NTS associated universities / institution or download form NTS website www.nts.org.pk
The complete scholarship form along with the supporting documents is to be submitted to the relevant office of the university, Institution for further processing
No direct application are accepted at NTS office by the applicant
Last deadline: candidates can submit their application till 6 November 2016.
UAN: +92-51-844-444-1
National testing service –Pakistan
NTS headquarter: 1-E, street no 46, sector 1-8/2, Islamabad