National Child Art Exhibition in Islamabad
December 1, 2015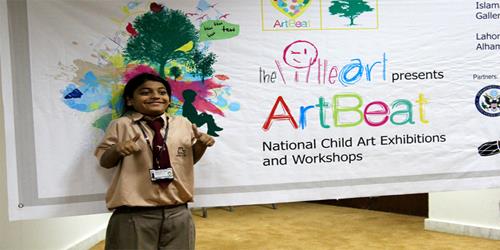 Discovering New Artists with the collaboration of Pakistan National Council of Arts (PNCA) organized National Child Art Exhibition in Islamabad. 150 artists, parents, aspirants, school administrators, teachers and other youngsters were seen at the event. The Ambassador of the Kingdom of the Netherlands – H.E. Mrs Jeanette Seppen and the President and Director, Discovering New Artists - Mr. Mujtaba Zaidi inaugurated the opening ceremony of this exhibition. A display of chosen artwork by 171 upcoming and young artists over entire Pakistan and appreciation was done by the chief guest.
While addressing to the people on the occasion, Mr. Mujtaba Zaidi - The Chief Executive officer mentioned, "The main objective of this step is to deliver the opportunities to the aspirants from under-resourced schools as well as to provide them an opportunity to participate equally on a national level along with all the resources that are required". He moreover said that "one of the main objectives of the competition is to make a bridge among the aspirants from the privileged as well as the underprivileged class".
The theme in this competition namely "Art for Change" is "Make a new world of Colors" while it is in its second stage. On the specific topic. Over 2500 entries have been made with their art pieces covering 100 schools from 15 different cities throughout the country while 30 were granted cash prized while schools were presented with trophies by the chief guests.  All the prizes were subsidized by ICI Dulux Pakistan.