Microsoft Innovation Center Takes Pakistan's IT graduates for Internship
August 1, 2015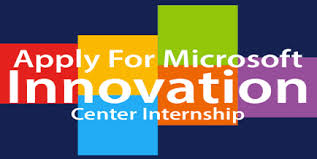 Microsoft Innovation Center is going to accept 7th batch of IT graduates for internship. The internship of the batch is going to start at the end of July 2015.
The move is aimed at providing Pakistani graduates with hands on experience which would help these graduates to find reasonable jobs after graduation. The Microsoft with the assistance of Higher Education Commission aims at empowering the aspirants and technical personnel of Pakistan with the technology tools of tomorrow.
Under this programme, Microsoft Innovation Center selects 40 fresh graduates after every six months and provides training to these graduates at Microsoft Innovation Centers. The interns are taught some of Microsoft programmes such as ASP.net, Azure, Windows Phone App Development, Office 365, and Microsoft SharePoint.
Around 200 IT graduates from different colleges of Pakistan have been trained through this programme. Most of these graduates got jobs in professional fields in IT industry. For the seventh batch around 1000 aspirants applied for the internship and only 50 were able to prove themselves to capable of getting summons from Microsoft Innovative Center for the 7th batch of internship.