Forman Christain College held Convocation
December 1, 2015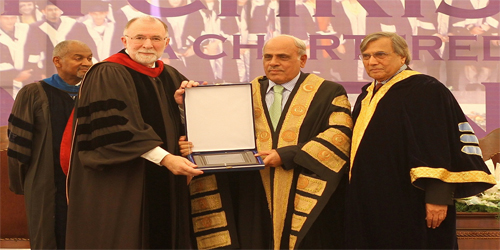 Forman Christian College has arranged its convocation while distributed the degrees to 667 students on the completion of their degree in different discipline. Including all the graduates, 78 Master and M.Phil while 589 Baccalaureate were present at the occasion. Ms Rabia Anjum narrated graduate farewell speech who successfully secured with CGPA - 3.96 while postgraduate speech was given by an M/Phil graduate. Moreover, 16 Certificates and 25 medals were honored to the top students of postgraduate program and the ones who attained achievements in their disciplines of Bachelors program respectively. While 12 students were awarded with Brilliant Student Awards for performing tremendously in co-curricular activities.
Mr. Malik Muhammad Rafique Rajwana – Governor Punjab was the Guest of Honor who blessed all the students with his words. He specifically congratulated the sparkling students along with their parents for their success. He showed up his believe in the graduating students to give back productivity to country and humanity altogether. He further added that the core purpose of education is to become a good human along with teaching others the same thing. He appreciated all the students for coming up with flying colors.
Dr. James A. Tebbe – Principle, FC also delivered his words to the students on the occasion. He paid his gratitude purposely to the Government of Punjab for their faithful devotion towards Forman Christian College while mentioning the convocation as a memorable day.
Additionally, Assistant Professor of the Education Department - Mohammad Adil Arshad was awarded with Brilliant Teacher Award, Manager Financial Aid - Mr Kamil Shamshad with Brilliant Customer Service Award (Administrative) while Assistant to Director Operations -  Mr Sunil Chohan with an award of Brilliant Customer Service Award (Non-administrative).