Budget is around the Corner, but not for Education
June 4, 2015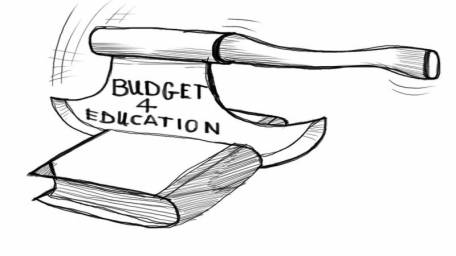 The budget for fiscal year 2015-16 is around the corner to test our mathematical skills. This time too, the government is unwilling to increase the budget for education.
But this is the case with education budget since long. Every budget in Pakistan has a very small figure to calculate when it comes to Education- Pakistan is ranked the lowest in the list of countries in SAARC region that spend the least Gross Domestic Products (GDP) percentage on education.
While Pakistan is nearest in terms of spending to Sri Lanka in the region, we are far away from Sri Lanka in literacy rate. Sri Lanka spends 2.6% of its GDP on education and enjoys 91.2% literacy rate.  Pakistan spends only 2% of GDP on education and we have been struggling to maintain 60% literacy rate for several years now.  Maldives is on top of the list for spending in education sector with 11.2% of its GDP but the country also enjoys 99% literacy rate.
The situation of education has not changed with passing of 18th Amendment that gives all the powers to provincial governments to spend accordingly. It is however is observed that literacy rate in KPK and Sindh have fallen from 54.2% to 53.4%, and 61.4% from 61.5% respectively. Punjab and Baluchistan showed a little bit improvement from 61.3% to 61.8% and 51.8% from 49.8% respectively.
This state of education in Pakistan shows a gloomy picture when we come across the fact that only 6% of Pakistani men and 4% of Pakistani women are degree holders or have above level education. Out of total 60% literacy rate, 70% of male and 48.4% fall in the least criteria of reading or writing their own names. Interestingly only 11% of Pakistanis are matriculate. The picture becomes gloomier in the face of the fact that 40% of Pakistanis are unable to read or write their own names.
The budget is around the corner but it seems that it is not for education as reportedly the current federal government is unwilling to increase the budget for education in the forthcoming budget.
Experts however are of the view that in order to meet the need of 21st century, Pakistan's education system needs drastic changes. A little bit improvement in literacy rates in one or two provinces is not going to bring any sustainable changes in the system. Only professional education is the key to success in the contemporary world.