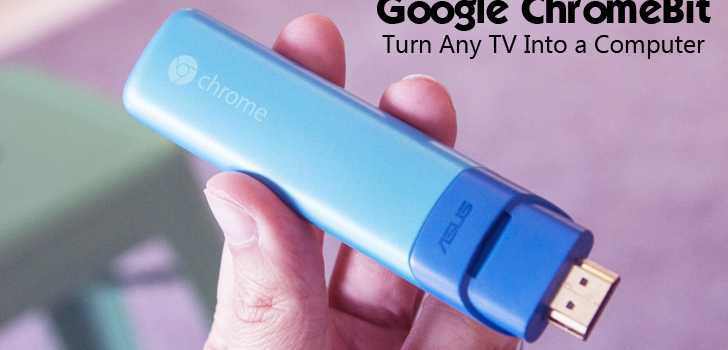 The computer smaller than a candy bar
Google's $100 Chromebit can turn any TV into a fully featured PC
Computer contains a HDMI port allowing it to be plugged straight into a TV
Runs Google's ChromeOS software
Firm also revealed two new laptops costing just $149
Google has unveiled a tiny HDMI dongle that can turn any TV into a fully fledged computer.
Called the Chromebit, it uses Google's Chrome OS.
It contains a fully featured PC which uses the  TV as its display, and wirelessly connects to a keyboard and mouse using bluetooth.
The new Chromebit will go on sale later this year from laptop maker Asus.
CHROMEBIT SPECS 
This chromebit has a HDMI port at one end which swivels so it can easily be plugged in.
It also contains:
Rockchip 3288 SoC processor
2GB of RAM
16GB of eMMC memory,
USB 2.0 port
WiFi 802.11 ac support, Bluetooth 4.0
Smart Ready controller and an ARM Mali 760 quad-core GPU
'Smaller than a candy bar, the Chromebit is a full computer that will be available for less than $100,' Google said.
'By simply plugging this device into any display, you can turn it into a computer.
'It's the perfect upgrade for an existing desktop and will be really useful for schools and businesses.'
Google also said it is releasing its cheapest Chromebook laptops yet, two versions priced at $149 aimed at undercutting Microsoft's Windows franchise and gaining ground in even more classrooms.
Various PC manufacturers have been working with Google to design lightweight laptops running on the Chrome operating system since 2011.
The newest versions are made by Hisense and Haier.