PlayStation 4 v Xbox One-02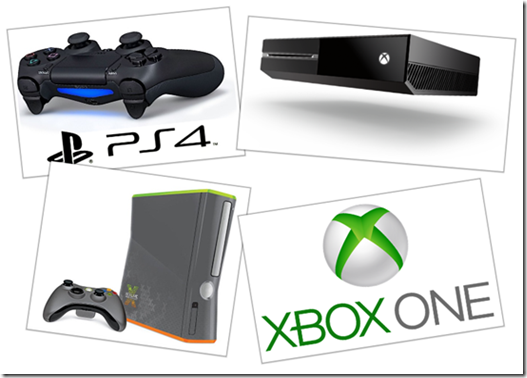 The release of the PlayStation 4 in North America - it goes on sale in Europe and Latin America in a fortnight - is seen by many as the true dawn for next-generation console gaming after the troubled launch of Nintendo's Wii U.
Early reviews of Sony's new machine have praised its graphics for looking "cinematic"; commended its latest DualShock controller's added touchpad and redesigned thumbsticks and triggers; and remarked that the console is much quieter and easier to navigate than the seven-year-old original PS3.
In a week's time Microsoft fires back with the launch of the Xbox One.
It will be more expensive, but includes a more advanced body-movement sensor in the Kinect; better voice recognition; and a more ambitious bid to take charge of your living room thanks to its ability to control satellite and cable TV set top boxes.
The revelation that two cross-platform launch titles - Battlefield 4 and Call of Duty: Ghosts - both feature higher resolution graphics on the PS4 than Xbox One, has played to Sony's favour.
But at this point the Xbox's exclusive games, including Forza Motorsport and Titanfall, are creating more positive buzz on tech sites than Sony's Killzone Shadow Fall and Infamous: Second Son.
The releases come at a critical time for both firms.
Courtesy BBC NEWS