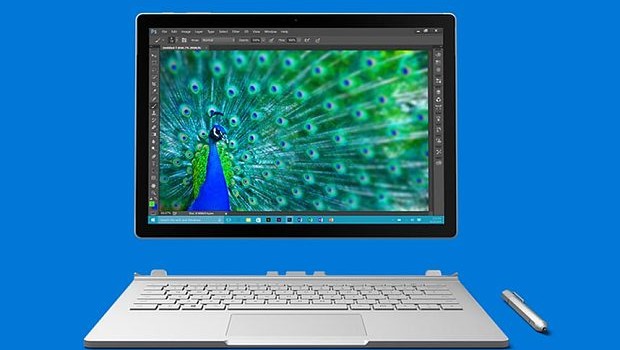 Microsoft claims its first laptop is fastest 'on any planet'
Microsoft is expanding its Surface family of devices with the launch of its first ever laptop, the Surface Book, featuring a detachable screen that can be used like a clipboard to sketch, take notes and browse the web.
The Surface Book boasts a 13.5-inch touchscreen display, with 267 pixels per inch – a total of 6,000 pixels – and runs Windows 10. The keyboard is designed for comfort, with a depression of 1.6mm, and it has a "dynamic fulcrum" hinge that swivels all the way round in mesmeric fashion:
It features Intel Core i5 and Core i7 processors, and up to 12 hours of battery life. Users have to option to add a discrete graphic processing unit (GPU) for improved video editing, faster rendering or immersive gaming.
At an event in New York today, Panos Panay, corporate vice president at Microsoft, said that the Surface Book is aimed at people who like the Surface Pro tablet but want a bigger screen, and the typing experience of a laptop.
"Ounce for ounce, pound for pound, this is the fastest 13-inch laptop ever made, anywhere, on any planet," he said.
"This is for the gamer who plays League of Legends; this is for the architect who's building a building right now, or designing a bridge and needs to compile and press the system; it's for the scientist who's thinking about the cure for cancer and needs to push the machine as far as they can; it's for the coder using the latest Visual Studio where they can compile using the GPU and CPU at the same time and not lose a minute."
The Surface Book is designed to compete with Apple's Macbook Pro. Mr Panay directly compared the two devices, claiming that, with the discreet GPU and two extra processors, Surface book is two times faster than the Macbook Pro.