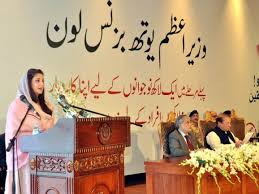 MARYAM NAWAZ REVIEWS PROGRESS ON PM YOUTH BUSINESS LOAN SCHEME
Ms. Maryam Nawaz, Honorary Chairperson, Prime Minister's Youth Business Loan Scheme recently held a meeting with Meezan Bank, NBP at PM House Islamabad today.
An exhaustive discussion took place at the meeting where different aspects of Prime Minister's Youth Loan programme were discussed. Ms. Maryam Nawaz discuss the introduction of Islamic mode of finance in the programme. The officials from National Bank of Pakistan informed the Honorary Chairperson that they do not have sufficient resources to cope with expected volume under Islamic mode of finance in the programme.
Officials from Meezan Bank assured Ms. Maryam Nawaz and NBP officials that their bank will provide every kind of assistance in this regard. The officials also suggested that Meezan Bank has plans to join PM's Youth Loan Programme under to provide the borrowers all facilitates under Shariah doctrine.
Ms Maryam Nawaz acknowledged the importance of Islamic financing and emphasized that NBP should expedite their efforts to build up a skilled team to handle Islamic mode of finance so that programme could be brought under Islamic mode. She thanked the banks representatives and their efforts in bringing the scheme under Islamic banner.